2022 11th International Conference on Chemical Science and Engineering
Chemical production is extremely critical in the industrial production. Chemical industry has very close relations with the national economic and social development which has become a pillar industry of the national economy and it is playing an increasingly important role. Facing the shortage of resources and energy in today's world, governments around the world have pointed out that social and economic development must not be at the expense of the environment and request for resource conservation or environmental protection. This call requires coordination of chemical engineering turns into sustainable development to minimize environmental pollution, imply resource conservation, and develop new energy sources. Scientists in the related fields have to promote the traditional chemical process into the eco-friendly green chemical engineering.
2022 11th International Conference on Chemical Science and Engineering (ICCSE 2022) will be held in Bangkok, Thailand during November 22-24, 2022.
ICCSE 2022 is aiming to build a platform for academic communication to promote development of chemical technology and green chemical engineering.
Conference Proceedings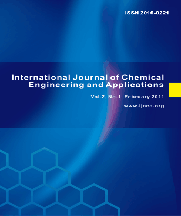 Accepted and registered papers will be published in International Journal of Chemical Engineering and Applications (IJCEA) ISSN: 2010-0221 (Print). Abstracting/ Indexing: Chemical Abstracts Services (CAS), Ulrich's Periodicals Directory, CABI, Electronic Journals Library, Google Scholar, ProQuest, Crossref, EBSCO, CNKI.

Plagiarism is stirctly forbidden in any academic conference, the articles submitted should be original and unpublished. Any Violations will be dealt with seriously in accordance with the policy.
ICCSE 2021 Proceedings
Lecture Notes in Mechanical Engineering (ISBN: 978-981-19-4289-1) Online Linkage
Journal of Physics: Conference Series, Volume 1580. Online Linkage
Contact
For enquiries regarding the Submission System, Format Template, Submission, Review, Acceptance, Manuscript Submission, Copyright Transfer Form, please contact the conference secretary as below:

Ms. Violet Xie
iccse_conf@163.com

+86-28-87577778